---
Finger Pointing
(Corlett 126), 1973
screenprint on smooth, white wove paper
11 15/16 x 8 15/16 inches
13 1/2 x 10 inches: framed
edition of 300
stamp signed on the verso and numbered in pencil on the verso
stamped on verso "© Copyright 1973 By Roy Lichtenstein Printed At Styria Studio"
Printed by Styria Studio
Published by Experiments in Art and Technology

Literature
M. Corlett, The Prints of Roy Lichtenstein: A Catalogue Raisonne 1948-1993, New York, 1994, no. 126 another impression reproduced in color.

Selected Museum Collections
Smithsonian American Art Museum, Washington D.C.
Museum of Modern Art, New York, NY
Art Institute of Chicago, Chicago, IL
Walker Art Center, Minneapolis, MN
Moderna Museet, Sweden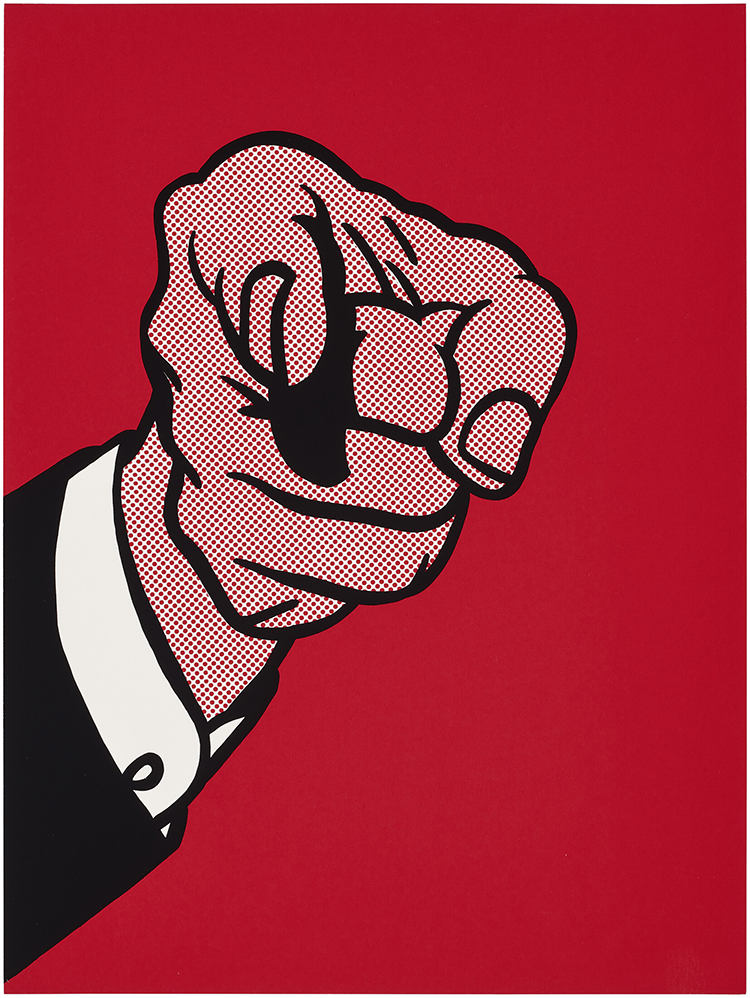 ---
ROY LICHTENSTEIN FINGER POINTING
Beginning in January 1971, Experiments in Art and Technology (E.A.T.) undertook a large fundraising effort to raise money for E.A.T. and support the artists by assembling a major collection of works by artists active in New York in the 1960's, raise funds to buy it, and donate the full collection to a museum.
E.A.T. approached Pontus Hulten, director of Moderna Museet in Stockholm, to choose the collection, because of his long-time interest in and support of American art and artists at the museum. After meeting and becoming friendly with Pontus Hulten, Lichtenstein donated Drawing for Finger Pointing, 1964, ink on paper to the Moderna Musseet in 1977.t
The artists in the collection were chosen by Hulten in consultation with Klüver and other museum people, dealers, and art historians Hulten knew in New York. The collection represents a wide range of media, from painting (Ellsworth Kelly, Cy Twombly, Kenneth Noland, Andy Warhol) and sculpture (Dan Flavin, John Chamberlain, Sol LeWitt, Robert Morris, Oyvind Fahlström, Robert Breer, Hans Haacke, Mark di Suvero) to new media (Robert Whitman, Nam Jun Paik, Walter De Maria) and installation (George Segal, Jim Dine, Larry Rivers) and evolved into a preeminent collection of American art from the 1960's.
The New York Collection For Stockholm opened at Moderna Museet in October 1973 with 105 American guests attending the opening. They traveled on a special charter flight organized by E.A.T. with Scandinavian Airways.
The collection of painting and sculpture represents a broad overview of artistic activity in New York in the 1960's. It included artists working in many genres and styles prevalent during that period: It embodied the range of new work of the early and middle 1960's: geometric abstraction, Pop Art's depiction of everyday materials and themes from the mass media, the use of industrial fabrication by Minimal artists, incorporation of new technology, and the reintroduction of politics into art as reaction to the Vietnam War.
#RoyLichtenstein Nude With Blue Hair realizes $581K record @ChristiesInc https://t.co/6DfS2fCJo7 pic.twitter.com/0I6Hvrlp4k

— JosephKLeveneFineArt (@JKLFA) October 24, 2014