---
Untitled Head I, 1970
brass sculpture
25.5 x 10 x 5.9 inches
edition of 75
incised with the Artist's signature, edition number, date, Gemini G.E.L. chop mark and copyright on a copper plate affixed to the underside
Published by Gemini G.E.L., Los Angeles

Literature
Gregorio Magnani and Daniel Buchholz, International Index of Multiples: From Duchamp to the Present, Cologne, 1993, p. 124

M. Corlett, The Prints of Roy Lichtenstein: A Catalogue Raisonne 1948-1993, New York, 1994, pg 27, fig. 14, illustrated in black and white.

Exhibitions
New York, Castelli Graphics, Roy Lichtenstein: New Editions, Lithographs, Sculptures, Reliefs, September - October 1970, another example exhibited.

Philadelphia Museum of Art, Multiples: The First Decade, March - April 1971, another example exhibited. The Cleveland Center for Contemporary Art,

A Selection of 20th Century Three-Dimensional Portraits and Related Drawings, November 1984 - January 1985, another example exhibited. East Hampton, Guild Hall Museum,

Roy Lichtenstein: Three Decades of Sculpture, August - October 1992, another example exhibited. Museo del Palacio De Bellas Artes, Salas Nacional Y Diego Rivera; Museo de Arte Contemporyneo de Monterrey; Washington D.C., Corcoran Gallery of Art; Valencia, Instituto Valenciano de Arte Moderno; La Coruña, Fundacion Pedro Barrio de la Maza; Lisbon, Centro Cultural de Belem; July 1998 - August 2000, another example exhibited.

Twentieth Century American Sculpture at the White House - Exhibition V, 1997, n.p., illustrated in color, another example exhibited.

Selected Museum Collections
Walker Art Center, Minneapolis, MN, another impression.
National Gallery of Art, Washington D.C., another impression.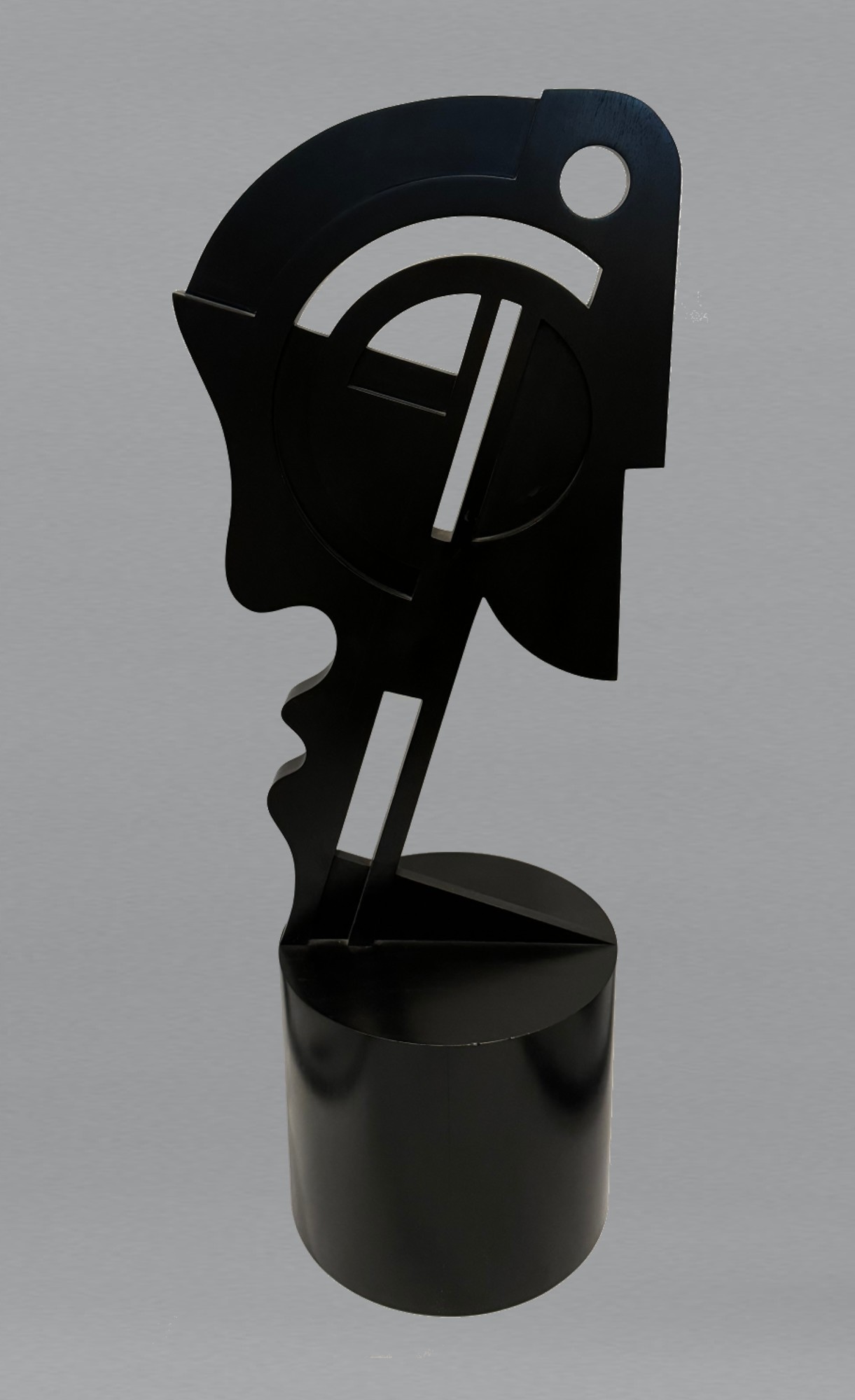 ---
Roy Lichtenstein Modern Head Series
In 1966, while working on the Brushstrokes Series, Roy Lichtenstein created a poster for New York's Lincoln Center inspired by the architecture and design of the 20's and 30's.
The creation of Lichtenstein's Lincoln Center poster eventually influenced a series of paintings, prints and sculpture that parodied the style of Art Deco, which the Artist ironically described as cubism for the home. Like the Landscapes paintings that preceded them, Roy Lichtenstein Modern Head Series is among a select few pieces in his oeuvre that does not reference a specific artist or object. The Modern Head Series is based on one of Roy Lichtenstein's favored formal ideas: impure style. In his Modern Head Series of paintings, sculptures and prints, Roy Lichtenstein essentially stylized an already "stylized" style.
For the Modern Head Series, Roy Lichtenstein re-configured decorative motifs of the era including brass ornamentation and geometric wallpaper, which are evident in the skyscrapers, theater marquees and plush interiors of Art Deco landmarks like the Chrysler Building and Radio City Music Hall.
Referencing the style of Art Deco, Roy Lichtenstein's Modern Head Series strikes a balance between verticals and diagonals, curves and straight edges, dynamic and static forms. Roy Lichtenstein's Modern Head Series was created with the premise that the profile of a man resembles a machine with the image manufactured by an industrial source. Roy Lichtenstein's shimmering Untitled Head I brass sculpture references the flat planes, precision, and abstract geometric forms associated with 30's Art Deco architecture and design.
Other examples of Roy Lichtenstein Untitled Head I brass sculpture are in the Collections of the National Gallery of Art and Walker Art Center.
#RoyLichtenstein Brushstroke fetches $322K @Sothebys after passing November 2014 https://t.co/PwF5jKxuZI pic.twitter.com/j0UE0zkkPU

— JosephKLeveneFineArt (@JKLFA) September 29, 2015