---
0-9, A Set of 10 Numerals
(ULAE 156-165), 1975
Set of ten etchings on Barcham Green paper
8 3/8 x 6 inches each
Edition of 100
Each numbered by the artist in pencil and signed "J. Johns 75" lower right.
Each with the Jasper Johns watermark signature
Printed by Atelier Crommelynck
Published by Petersburg Press, 1975
Literature
Richard Field, The Prints of Jasper Johns 1960-1993: A Catalogue Raisonne, ULAE, New York, 1994, Catalogue Reference ULAE 156-165, n.p. Each Jasper Johns 0-9 etching is reproduced
Roberta Bernstein, Carter E. Foster, Jasper Johns Numbers, Cleveland Museum of Art, 2003, pg. 81, another impression reproduced in color.

Riva Castleman, Jasper Johns: A Print Retrospective, Museum of Modern Art, New York, 1990, p. 141.
Museum Collections
Walker Art Center, Minneapolis
Whitney Museum of Art, New York
National Gallery of Art, Washington D.C.
National Gallery of Australia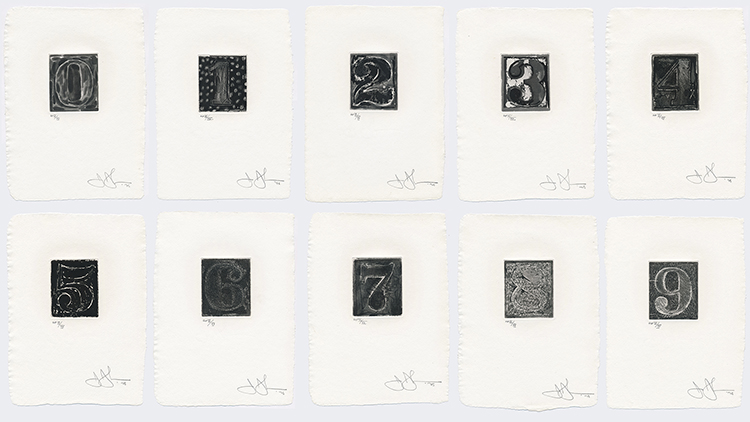 ---
Jasper Johns 0-9 Set of Ten Numerals
The Jasper Johns 0-9 Set of Ten Numeral etchings is exceptionally fresh and bright and in overall excellent condition. Each of the Ten Jasper Johns Numeral etchings, from "0" through "9", is printed on an individual sheet of Barcham Green Paper to stand alone.
The full impact of the "0" through "9" progression of Numerals is best when the Set of Ten Numerals Etchings is displayed either in two rows of five figures - "0 through 4" and "5 through 9", or a single row of ten etchings, beginning with "0" and ending with "9".
Jasper Johns 0-9 Numerals Set is an iconic example of the Artist's transformation of a mundane subject into something visually complex and engaging, a theme central to Jasper Johns creative process.