---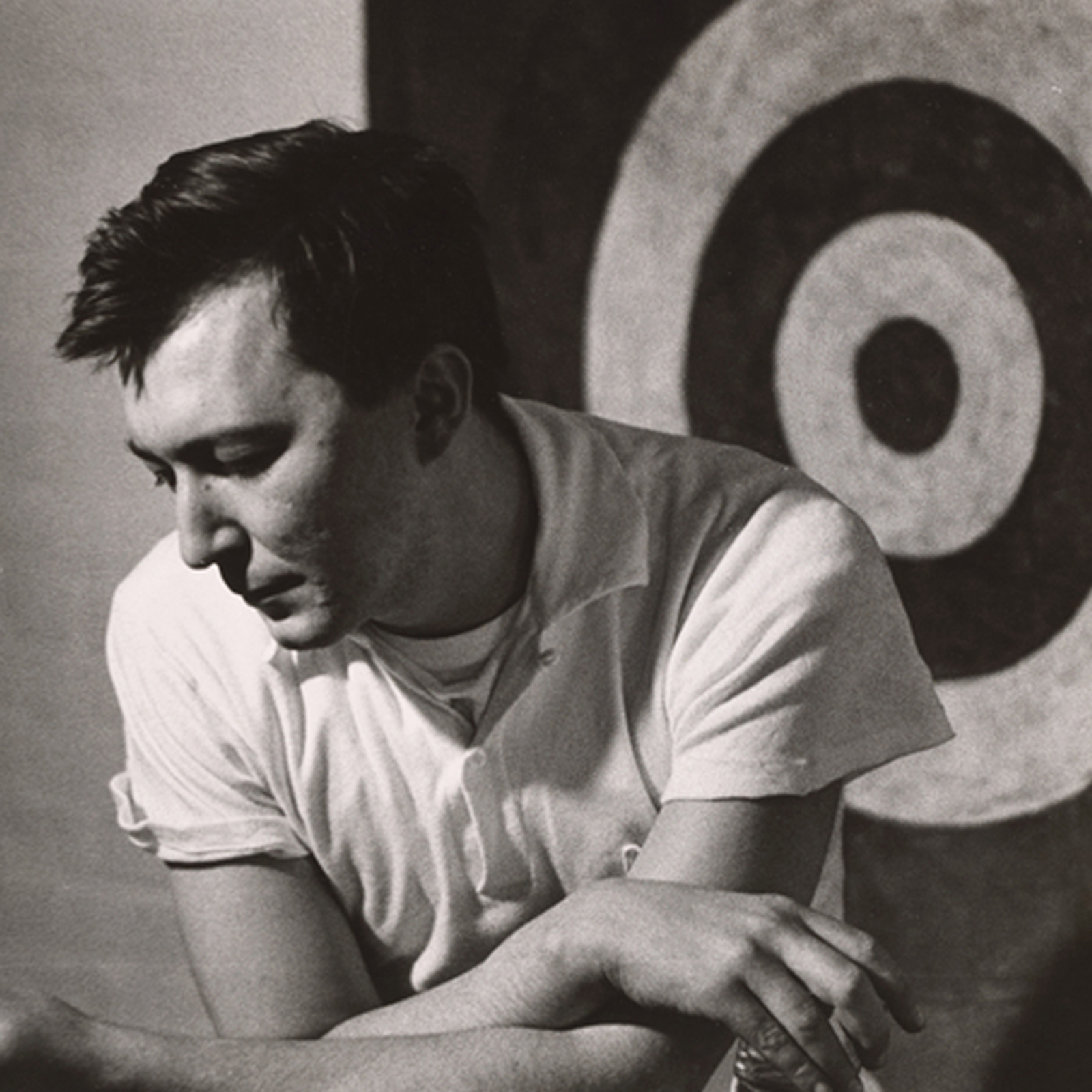 Jasper Johns painting a work from Regrets in his Connecticut studio
Jasper Johns, arguably the most important living Post War and Contemporary artist
At 87, Jasper Johns, arguably the most important living post war and contemporary artist, continues to win praise and receive prominent museum exhibitions! A catalogue raisonne of 441 paintings & sculpture was published in 2017.
In 2017 Jasper Johns was the subject of two major museum exhibitions, the first entitled: Jasper Johns and Edvard Munch: Love, Loss, and the Cycle of Life at the Virginia Museum of Fine Art.
In addition, Jasper Johns was the subject of a 6 decade retrospective at the Royal Academy in London, which travels to the Broad Museum February 10 - May 13, 2018.
.@TheBroad announces 6 decade #JasperJohns retrospective featuring 1958 Three Flags from @whitneymuseum https://t.co/wkCIcZidr1 pic.twitter.com/Jm4SMd1jfP

— Joseph K. Levene Fine Art, Ltd. (@JKLFA) June 15, 2017
These exhibitions follow the acclaim the artist received for the 2014
Jasper Johns Regrets
, exhibition at the Museum of Modern Art, a series of 20 paintings, watercolors, pastels and prints which traveled to the Österreichische Galerie Belvedere; Ann Tempkin, MoMA chief curator of painting and sculpture, stated Jasper Johns Regrets "opens a window to Johns' creative process."
In 2020 Jasper Johns will have two simultaneous retrospectives at The Whitney Museum of American Art and the Philadelphia Museum
Jasper Johns established an an all time auction world record when
Flag
, fetched $36 million at Sotheby's, in November 2014. A print Post-War and Contemporary record was also set when Jasper Johns
Savarin Monotype
(ULAE S36) fetched $1.3 million, from the estate of Michael Crichton.
For six decades, Jasper Johns has been Internationally recognized for his iconic images of Targets, Maps, Flags, Numbers, Crosshatch, and Alphabets, right after the Museum of Modern Art acquired Jasper Johns' breakthrough American Flag painting in 1958.
Renowned for his masterful paintings, Jasper Johns ranks among the world's greatest printmakers, often compared to Picasso, Rembrandt and da Vinci. For Jasper Johns, printmaking encourages experimentation through the ease with which it allows him to pursue new directions. Jasper Johns innovative contributions to screenprints, etchings, linocuts and lithography have revolutionized the field of prints. Over six decades Jasper Johns has created over 450 limited print editions, plus scores of unique trial proofs, monotypes, hand colored proofs, etc.
In 2007, the National Gallery of Art, acquired 1,700 Jasper Johns prints comprised of lithographs, etchings, relief prints and screenprints, including unique trial proofs and progressive proofs. The National Gallery of Art now boasts the largest, comprehensive repository of Jasper Johns' extraordinary six decade print career.
Ranging across Jasper Johns's entire career—from his breakthrough paintings of the 1950's, which paved the way for the subsequent development of pop art and minimalism, Jasper Johns has had numerous museum retrospectives throughout his career, including paintings, drawings, prints as well as a host of other themes; recent highlights include the landmark 1997 exhibition ""Jasper Johns: A Retrospective" at the Museum of Modern Art, curated by Kirk Varnedoe and the breathtaking 2008 "Jasper Johns: Gray" at the Art Institute of Chicago and The Metropolitan Museum of Art.
Jasper Johns signed & numbered limited edition prints can be found in numerous museum collections around the world, including: Museum of Modern Art, New York; National Gallery of Art, Washington, D.C.; Walker Art Center, Minneapolis; Metropolitan Museum of Art, New York; Smithsonian American Art Museum Washington, D.C. and Art Institute of Chicago.
View the Joseph K. Levene Fine Art, Ltd., selection of iconic Jasper Johns Prints from the Artist's Flags, Maps, Targets, Numbers, Savarin, Crosshatch and Seasons Series. These Jasper Johns prints represent the artist's best collaborations with important print publishers, including Universal Limited Art Editions (U.L.A.E.), Simca, Petersburg Press, Inc., Low Road Studios and Gemini G.E.L.
View the Joseph K. Levene Fine Art, Ltd., selection of iconic Jasper Johns Prints