---
Great American Nude
(I.C.A. 6), 1966
Multiple comprised of vacuum-formed plexiglas, spray-painted in colors on the underside
7 1/2 x 7 3/4 x 1 inches
Edition of 75 plus 24 artist proofs
Incised verso "Wesselmann 66" with edition number
Published by Tanglewood Press, Inc., New York, for inclusion in 7 Objects in a Box

Provenance
Tanglewood Press, Inc., New York

Selected Museum Collections
Museum of Modern Art, New York, another impression
Harvard Art Museums/Fogg Museum, another impression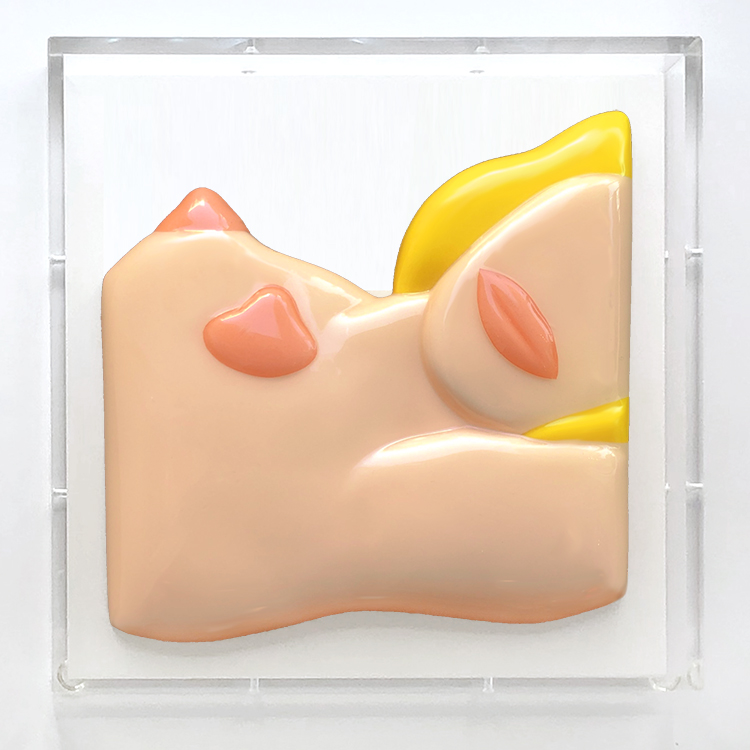 ---
LITTLE PLASTIC MULTIPLE FROM GREAT AMERICAN NUDE SERIES
Tom Wesselmann is best known for his acclaimed Pop Art series of Great American Nudes, depicting faceless nude women. In the 1960's, Tom Wesselmann created art in a variety of media including paintings, drawings and collage. It was during this period, Tom Wesselmann created his innovative shaped canvases in the form of women; Tom Wesselmann also created small and large artworks with in plastic in a variety of colors.
Creating three dimensional objects in vacuum formed plastic was particularly appealing to Tom Wesselmann as it translated his sinuous drawings into a sleek, sculptural form.
Great American Nude, is a charming miniature limited edition multiple Tom Wesselmann created in 1966 for Rosa Esman, then owner of Tanglewood Press. Created in an edition of only 75 impressions plus 24 artist proofs, Great American Nude multiple was originally included in Tanglewood's7 Objects in a Box series housed in a wood crate. Unlike most impressions of Great American Nude, the impression we are offering for sale is in remarkable condition, the colors fresh and vibrant. Due to the nature of the material, most impressions of this multiple have not survived without considerable damage and some recently sold are not signed or numbered.
#TomWesselmann Great American Nude triples estimate at $682K @Sothebys https://t.co/RDcRH30pEi pic.twitter.com/pkatHkEWgE

— JosephKLeveneFineArt (@JKLFA) November 5, 2015