---
Sunrise, 1965
porcelain enamel on steel
8 1/2 x 11 x 1 inches
edition of 75
signed and numbered in ink on the verso
Published by Tanglewood Press, Inc., New York, as included in the 7 Objects in a Box portfolio

Provenance
Tanglewood Press, Inc., New York
Private Collection, New York

Literature
M. Corlett, The Prints of Roy Lichtenstein: A Catalogue Raisonne 1948-1993, New York, 1994, pg 27.

Museum Collections
Los Angeles Museum of Contemporary Art, Los Angeles CA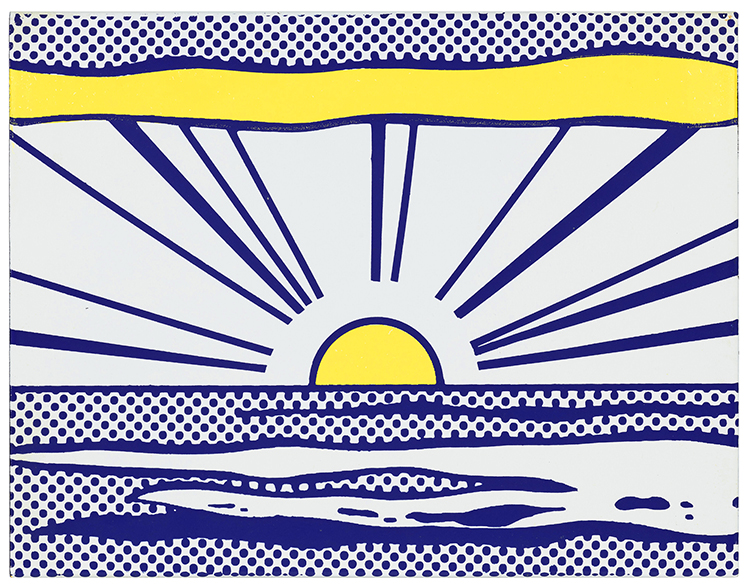 ---
Roy Lichtenstein Sea and Sky landscapes 1964
A series of over 30 Roy Lichtenstein works featuring landscapes and water scenes is currently exhibited in Roy Lichtenstein: Between Sea and Sky at Guild Hall, East Hampton until October 12, 2015.
Roy Lichtenstein began his Sea and Sky landscapes in 1964 and explored this genre in numerous media, including paintings, enamel on metal, drawings, rowlux collages and limited editions. Sea and Sky celebrates Roy Lichtenstein's series of landscapes including several images of Sunrise.
Roy Lichtenstein Sunrise, 1965 multiple is similar to the Artist's large scale enamel on steel works, including Sunrise, 1965 sold by Christie's for $545,000 and Brushstroke, 1965 sold by Christie's for $782,500. The hard, glossy surface of enamel on metal, used in Sunrise, 1965 is an industrial surface appropriate for his hard-edged, Pop stylized landscape imagery.
By the time Roy Lichtenstein created Sunrise with Tanglewood Press in 1965, the Artist had already shown an interest in using unusual materials, including shopping bags employed for his Turkey Shopping Bag, 1964 (C. App. 4) and Rowlux used in Moonscape, 1965 (C. 37).
Roy Lichtenstein limited editions now reach six figures, Roy Lichtenstein's Sunrise, 1965, a dynamic multiple made with the same materials as the larger enamel works by the artist for a fraction of the price.
In an 1967 Interview with John Coplans, Roy Lichtenstein reflected on Sunrise:
"There is something humorous about doing a sunset in a solidified way, especially the rays, because a sunset has little or no specific form. It is like the explosions. It's true that they may have some kind of form at any particular moment, but they are never really perceived as defined shape… It makes something ephemeral completely concrete."
- Lichtenstein interviewed by John Coplans cited in Exh. Cat., Pasadena, Art Museum, Roy Lichtenstein, 1967, p. 15
#RoyLichtenstein Sunrise multiple fetches $20K @Sothebys even with enamel chip https://t.co/ff49E0IYej pic.twitter.com/lMOdff9vTO

— JosephKLeveneFineArt (@JKLFA) April 21, 2016