---
Visage gÉomÉtrique
(A.R. 357), 1956
Glazed ceramic plate
12 1/4 x 14 1/2 x 1 1/4 inches
Edition of 100
Stamped marked and numbered (underneath)
Conceived in 1956 and executed in an edition of 100

Provenance
Madoura, Vallauris, France
Private Collection, New York, Acquired from the above in 1983

Literature
Alain Ramié, Picasso Catalogue of the Edited Ceramic Works 1947-1971, First Edition, 1988, Catalogue Reference A.R.357, pg 183.
Sold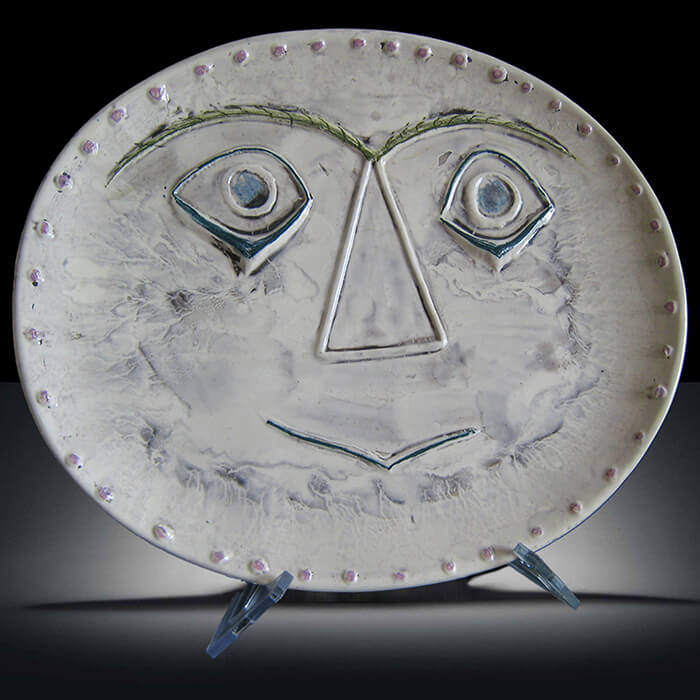 ---
Pablo Picasso Madoura Pottery
Pablo Picasso was first made aware of the Madoura Pottery in 1946, whilst visiting the annual ceramics festival in Vallauris in the South of France. Enchanted by the works on display from the Madoura Pottery, he asked to be introduced to the creators, Georges and Suzanne Ramié, who invited him to see their workshop in action. Picasso was immediately inspired, and modelled three clay pieces that day.
A year later, he returned to see his finished works and was delighted with what he had achieved in this new medium and could not resist getting to work with the clay once more. A section of the workshop was set aside for Picasso, who sat with the workers, diligently creating and experimenting with new techniques.
During the 1940s Villauris became an important hub for potters and artisans, and the romantic Picasso enjoyed returning to the simple life of the artisan, and being treated as just another worker by the Ramié's. He embraced the simple, working life, out of the spotlight, and with his pet owl and goat for company: both animals became favoured motifs in his oeuvre at this time. The simplicity of Vallauris was in great contrast to Picasso's international celebrity status, and he was visited there by some of the great names of the late 20th century such as Marc Chagall, Jean Cocteau, Brigitte Bardot, Gary Cooper and Richard Attenborough, many of whom he demonstrated his technique to and was inspired by in turn. The Madoura Pottery held a very special place in Picasso's heart and greatly impacted upon his life – not only did he meet his second wife, Jacqueline Roque, at Madoura (where she was a pottery assistant), but he spent twenty-four years there experimenting and perfecting his ceramic techniques.