---
Yellow Balloon Dog, 2015
Pristine condition, in the original publisher's box
Cast porcelain sculpture coated with a reflective finish
10 1/4 X 10 1/4 x 4 1/2 inches
Edition of 2300
Stamped "Jeff Koons" in yellow on the reverse
Hand numbered in felt-tip pen on the reverse
With a hand numbered certificate of authenticity, signed by Michel Bernardaud
Produced by Bernardaud in Limoges, France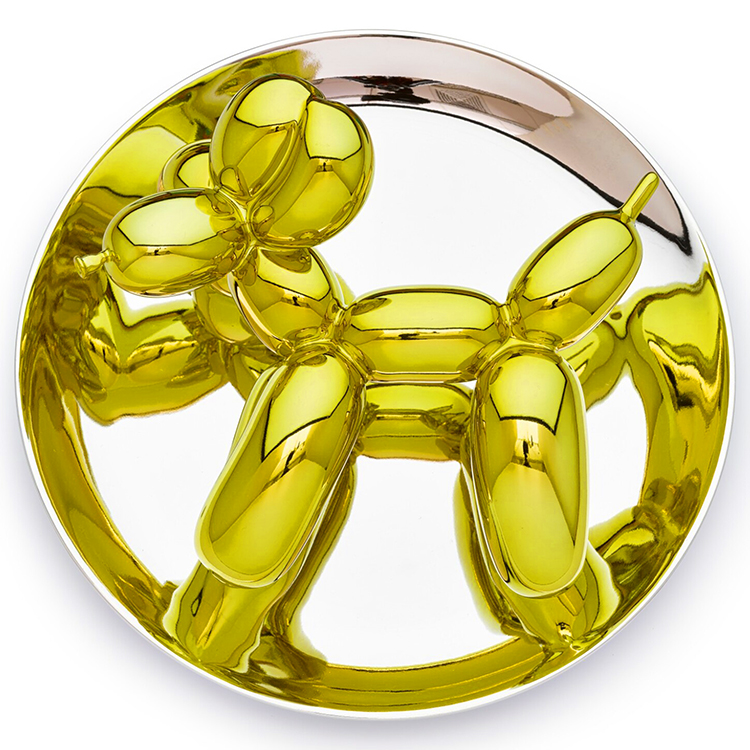 ---
Jeff Koons Yellow Balloon Dog Sculpture Multiple
"Balloon Dog is a very optimistic piece, it's a balloon that a clown might twist for you at a birthday party. But at the same time there's the profoundness of an archaic sculpture. The piece has an interior life while the reflective exterior surface affirms the viewer through their reflection.
The porcelain only accentuates the sexuality of the piece. For Balloon Dog (Yellow), it's been a pleasure working with Bernardaud, who proudly work with only the finest materials, innovative processes, and artisan talent. Their experience in porcelain dates back 150 years. Since the creation of Balloon Dog (Red) and Balloon Dog (Blue), Museum of Contemporary Art, Los Angeles, has been involved in the distribution of the editions so I'm pleased to partner with MOCA to be supportive of their endeavors." Jeff Koons
Like the Jeff Koons red & blue balloon dogs, the Jeff Koons Yellow balloon dog limited edition multiple sculpture that Joseph K. Levene Fine Art, Ltd., has for sale is in pristine condition, contained in the original box, as published in 2015.
Each Jeff Koons balloon dog sculpture is accompanied with the original plastic stand, and most importantly, the Sculpture has never been displayed and/or handled like most Jeff Koons Balloon Dog Sculptures bought and sold on the secondary market.
That means the Jeff Koons Balloon Dog Sculpture purchased from Joseph K. Levene Fine Art, Ltd., is without the usual fingerprints; scuffs; nicks and missing pieces/chips often seen on the majority of Jeff Koons Balloon Dog Sculptures offered at public auction or on eBay for so called "bargain" prices.
Joseph K. Levene Fine Art, Ltd., also has the desirable Jeff Koons Red & Blue Balloon Dog Sculpture Set of two, each in pristine condition, and contained in the original Publisher's Packing.