---
red Balloon Dog, 1995
Pristine condition, in the original publisher's box
Cast porcelain sculpture coated with a reflective finish
10 1/4 X 10 1/4 x 4 1/2 inches
Edition of 2300
Stamped "Jeff Koons" in red on the reverse
Hand numbered in felt-tip pen on the reverse
Produced by the Museum of Contemporary Art, Los Angeles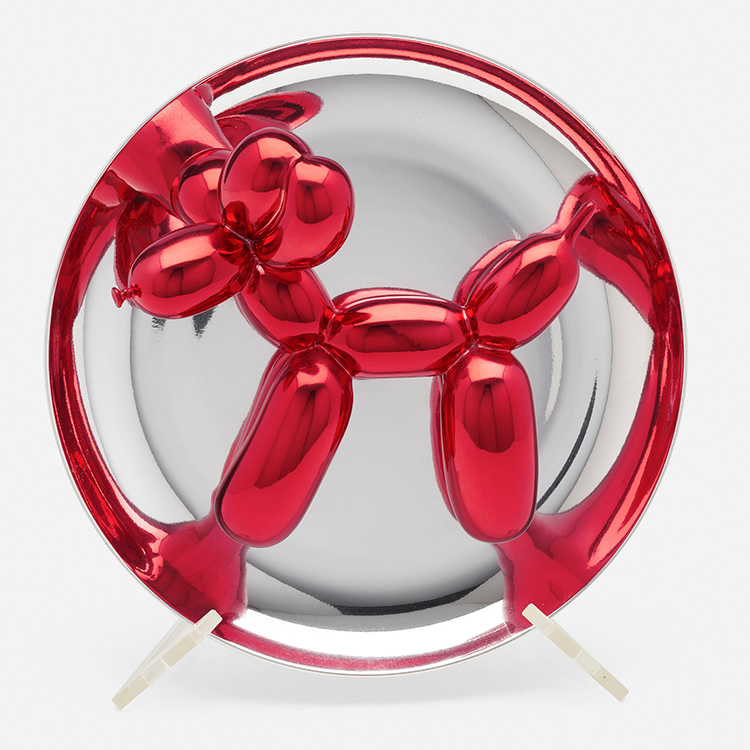 ---
Jeff Koons red Balloon Dog Sculpture Multiple
The Jeff Koons red Balloon Dog limited edition multiple sculpture that Joseph K. Levene Fine Art, Ltd., has for sale is in pristine condition, contained in the original white box, as originally published in 1995.
Each Jeff Koons Balloon Dog Sculpture is accompanied with the original plastic stand, and most importantly, the sculpture has never been displayed and/or handled like many Jeff Koons Balloon Dog Sculptures bought and sold on the secondary market.
That means the Jeff Koons Balloon Dog sculpture purchased from Joseph K. Levene Fine Art, Ltd., is without the usual fingerprints; scuffs; nicks and missing pieces/chips often seen on the majority of Jeff Koons Balloon Dog sculptures offered at public auction or on eBay for so called "bargain" prices. Joseph K. Levene Fine Art, Ltd., also has the desirable Jeff Koons red & blue Balloon Dog sculpture set of two, each in pristine condition, and contained in the original publisher's packing.