---
red Balloon Dog, 1995
Blue Balloon Dog, 2002
Red & Blue Balloon Dog set
Each in pristine condition, in the original publisher's box
Cast porcelain sculpture coated with a reflective finish
10 1/4 X 10 1/4 x 4 1/2 inches each
Edition of 2300
Each stamped "Jeff Koons"and hand numbered in felt-tip pen on the reverse
Produced by the Museum of Contemporary Art, Los Angeles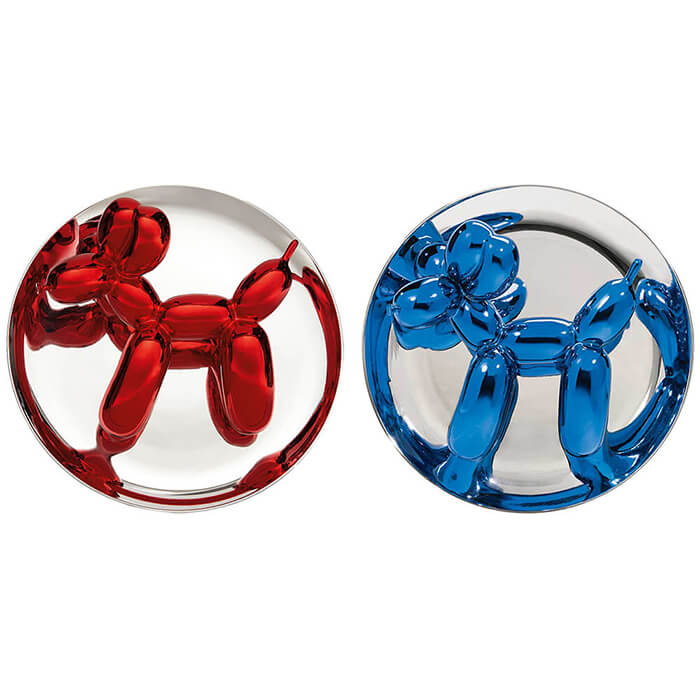 ---
Jeff Koons red & Blue Balloon Dog Set Pristine Condition
Jeff Koons is famous for creating Large Balloon Dogs in 5 Colors (Blue, Magenta, red, Orange, red), Jeff Koons Orange Balloon Dog, was sold for $58.4 million by Christie's on 11/12/13, becoming the most expenisve Work of Art by a Living Artist ever sold at auction.
In addition to the unique large scale Balloon Dogs, Jeff Koons also created limited edition Balloon Dogs (red 2015, Blue 2002) in cast porcelain. Many Jeff Koons Balloon Dogs Sculptures sold at auction are in compromised condition, with numerous scratches, without the original Boxes, handling marks, yet they still fetch strong prices.
communicate with the masses
.
Jeff Koons
The Jeff Koons Balloon Dog Sculptures that Joseph K. Levene Fine Art, Ltd., offers for sale include the publishers box, original stand, box and packing materials, as published.
"Balloon Dog is a very optimistic piece, its a balloon that a clown would maybe twist for you at a birthday party. But at the same time there's the profoundness of an archaic sculpture. The piece has an interior life while the reflective exterior surface affirms the viewer through their reflection. The porcelain only accentuates the sexuality of the piece." Jeff Koons
Jeff Koons