---
Bagdad (P9), 2014
Diasec mounted chromogenic print on aluminum
19.69 x 15.75 inches
50 x 40 cm
Edition of 500
Numbered in felt-tip pen
Printed on the verso:
"A facsimile object of Gerhard Richter BAGDAD Catalogue Raisonne 914-1, 2010, 50 x 40 cm, lacquer behind glass Edition size 500, each numbered. 50 x 40 cm, Diasec mounted chromographic on aluminium. Heni Productions Catalogue Number: P9"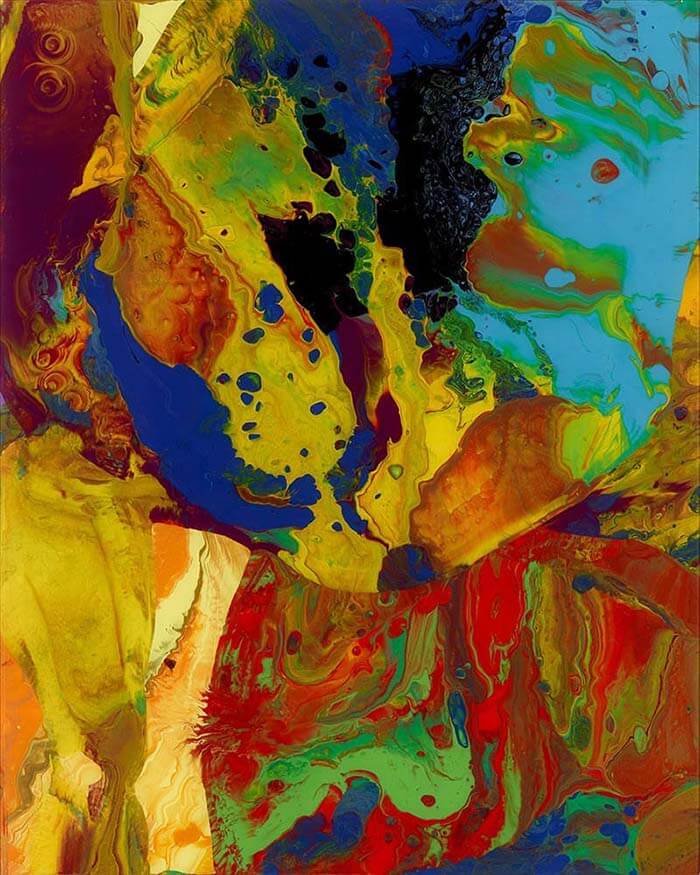 ---
Gerhard Richter collaboration with Heni Productions
In 2013 Gerhard Richter started a collaboration with Heni Productions to produce limited edition prints. Richter, through Heni Productions, has so far made eleven such editions, numbered P1 to P9, all co-published with museums and institutions. These prints are all made under Richter's supervision and approval.
The Bagdad (P9) is based on Richter's seminal Flow paintings, which were created by pouring enamel paints on a glass surface. High-resolution photographs of the originals have been transformed into chromatographic prints, precisely reproducing the combination of chance gesture and careful composition within the originals.
The Heni editions are referred to by the artist as "facsimile objects"; although they proceed from the Flow paintings, this series is distinct from the originals in a number of ways. In some cases, the artist has decided to present them differently; in others, they represent the only version of paintings that no longer exist.
LDN - We've parted with another #Richter, this time over 6x its estimate at £51k. Auf wiedersehen, 'Haggadah (P2)'. pic.twitter.com/JBU4KVlZnv

— P H I L L I P S (@phillipsauction) June 11, 2015