---
Self-Portrait With Sunglasses (Filmstrip),
(F&S III.A10), c. 1978
Unique screenprint on Curtis Rag paper
45 x 35 3/4 inches
Stamped verso "Authenticated Estate of Andy Warhol" with an ID Number along with the initials of Vincent Fremont."
Literature
"About Face: Andy Warhol Portraits", Published by the Wadsworth Atheneum, Hartford, and the Andy Warhol Museum, Pittsburgh, Catalogue #44, a similar impression illustrated in Black & White.

"Andy Warhol Unique Prints From the Estate of Rupert Jasen Smith": Vrej Baghoomian Gallery, New York/Fred Dorfman Gallery, New York: March 16- April 13, 1991; this Work reproduced on page 8 in Black & White.
Sold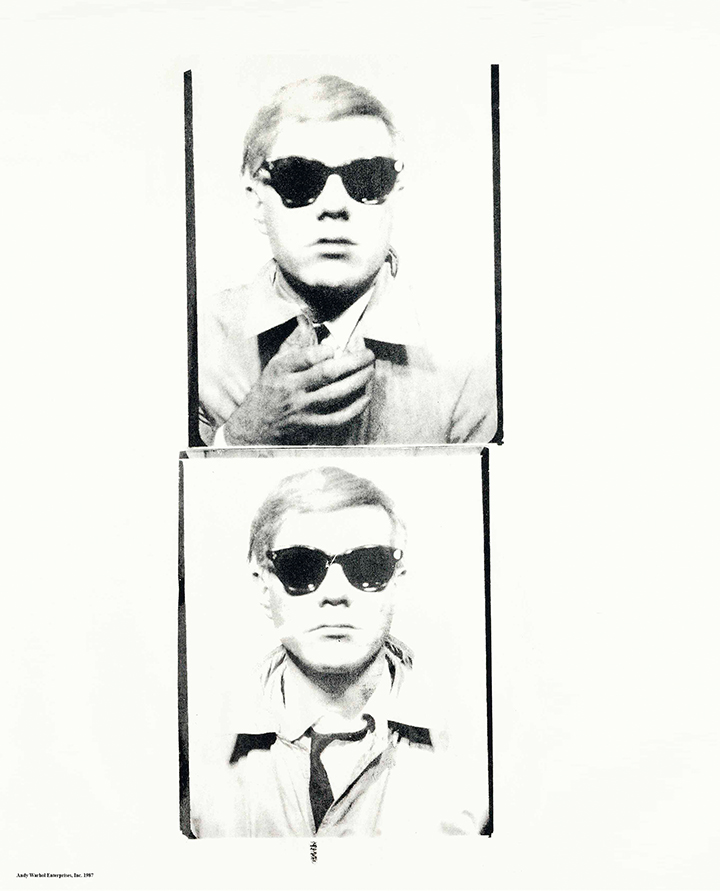 ---
Andy Warhol Self Portrait all time record at Auction
This iconic image is the first Self-Portrait Andy Warhol ever created. Andy Warhol was fascinated by mechanical reproduction dating to his years in the commercial art field. In this Unique Screenprint on Paper, Andy Warhol uses 25 cent photo-booth filmstrip photographs, common place in the 1960's as his source material.
It is no surprise that Warhol appears in sunglasses, masking himself from the viewer, since he was often self conscious and socially awkward. He creates the "cool" persona of a mystery man hiding behind dark glasses and a rain coat.
Warhol turns his eye, which previously depicted popular objects or celebrities like Campbell's Soup Cans and Liz Taylor upon himself, thus elevating himself to iconic status. One can view these early self-portraits as Warhol coming to terms with his newfound status as America's greatest Artist.
Images from this Authenticated Andy Warhol unique Screenprint on Paper appear in the Andy Warhol Self-Portrait 1964, painting which holds the all time record for a Andy Warhol Self Portrait at Auction, selling for $38,442,500 at Christie's New York; May, 2011.