---
Kiss
(F&S II. 8), 1966
from seven objects in a box portfolio
Screenprint on plexiglass
12 1/2 x 8 inches
Impression from the regular numbered edition of 75 examples
Signed "Andy Warhol" with incised signature on plexiglass mount
Numbered from the regular edition with an incised inscription on the plexiglass mount
Published especially for the 1966 Pop Art project Seven Objects in a Box, containing seven works by seven artists
Printed by KMF, Inc. (Knickerbocker Machine & Foundry, Inc.), NY
Published by Tanglewood Press, Inc., NY
Literature
Heiner Bastian, Andy Warhol Retrospective,Tate Publishing, London, 2001, page 216, cat. number 157, similar work reproduced.

Exh. Cat., New York, Museum of Modern Art, Andy Warhol, A Retrospective, 1989, cat. no. 319, p.304, another example illustrated.

Frayda Feldman and Jörg Schellmann, Andy Warhol Prints: A Catalogue Raisonné 1962-1987, Fourth Edition (expanded by Frayda Feldman and Claudia Defendi), 2003, Catalogue Reference F&S II. 8; another impression reproduced in color page 61.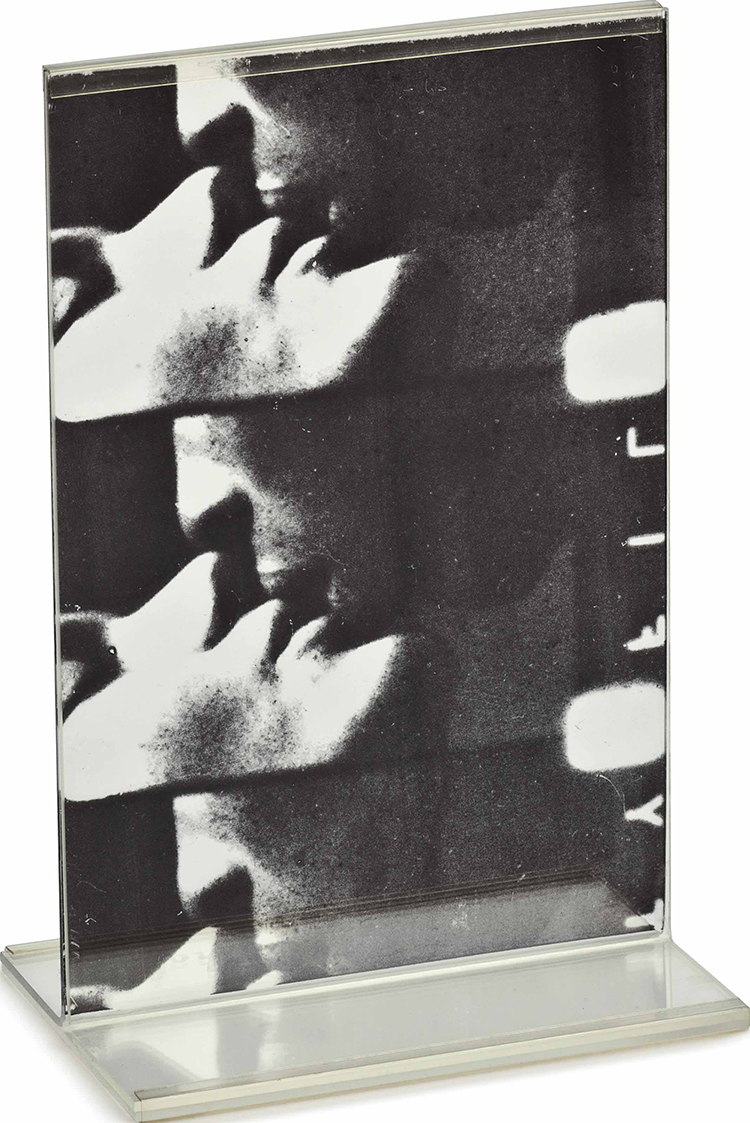 ---
Andy Warhol Kiss Pop Art Sculpture
Kiss is a still image from a 1963 silent film directed by Andy Warhol. The film runs 50 minutes and features various couples—man and woman, woman and woman, man and man—kissing for 3½ minutes each. The film features Naomi Levine, Gerard Malanga, Rufus Collins, Johnny Dodd, and Ed Sanders.