---
Apple
(F&S IIB. 359), 1985
From the Ads portfolio
Unique color screenprint on Lenox Museum board 38 x 38 inches
From the edition of 30 unique trial proofs
Signed "Andy Warhol" & numbered in pencil lower right
Bears the printer's chop mark and publishers chop mark
Stamped in black on the verso:"© Andy Warhol 1985; © Apple Computer, Inc. 1985. The Apple logo is a registered trademark of Apple Computer, Inc. Macintosh is a trademark licensed to Apple Computer, Inc. This interpretation created and copyrighted by Andy Warhol is derived from an original version of the Apple logo copyrighted by Apple Computer, Inc. and used with the permission of Apple Comptuer, Inc."
Printed by Rupert Jasen Smith, New York
Published by Ronald Feldman Fine Arts, Inc., New York
Literature
Frayda Feldman and Jorg Schellmann, Andy Warhol Prints: A Catalogue Raisonne: 1962-1987, Fourth Edition, D.A.P., New York, 2003, Catalogue Reference F&S IIB. 359, three other unique impressions reproduced page 196 in color.
Sold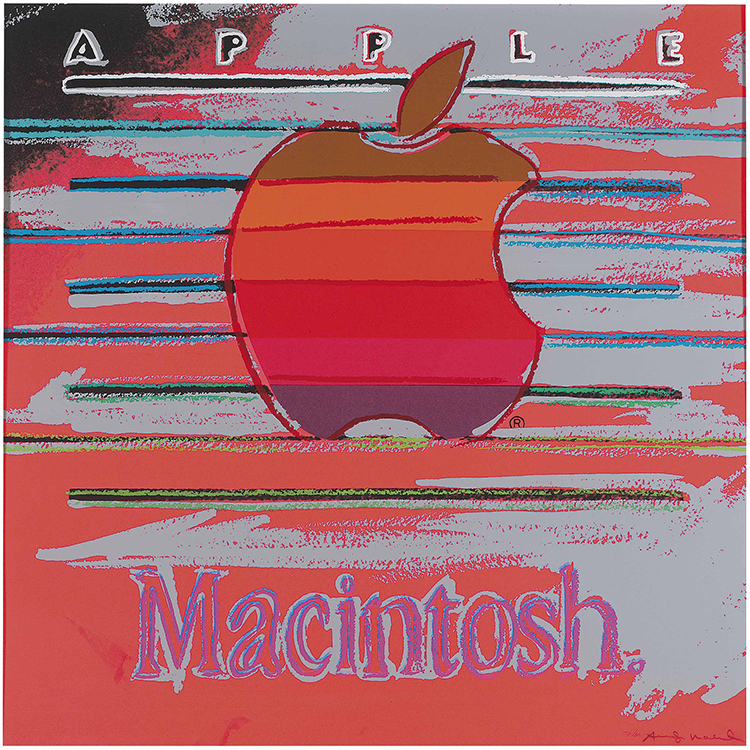 ---
Andy Warhol Apple Trial Proof in Unique Color Combination
Andy Warhol had extraordinary vision when he created the now popular 1985 Apple Screenprint, from the Ads Portfolio of 10, since many people questioned if Apple Computer, as it was then known, would survive.
As a result of poor market share, Steve Jobs, one of two Apple founders, was ousted in 1985; Jobs returned in 1996 when Apple instilled its new corporate culture to "create recognizable products". Good news for Warhol, the Apple logo never changed; today, it is one of the most recognizable logos in the world.
#AndyWarhol #Apple TP Screenprint in unique color combination fetches $162,500 http://t.co/1VEFrBxiWA pic.twitter.com/43LcWGcEz2

— Andy Warhol Art (@WarholArt) May 21, 2015
This stunning Andy Warhol Unique Color Apple Screenprint is one of 30 impressions, hand signed & numbered in pencil Trial Proofs, each in a unique color combination. Essentially, the process is the same for unique Apple Screenprints as it is for Apple Works on canvas; the only difference is this is on Lenox Museum Board.
The Apple Unique Color TP Screenprint that Joseph K. Levene Fine Art, Ltd. is offering for sale is one of thirty TP's documented in Feldman and Schellmann's, Andy Warhol Prints: A Catalogue Raisonne. For reference, another unique example from the signed & numbered edition of 30 fetched $162,500 at public auction in Dallas.
Sharp eyes will recognize Art Sellers who APPEAR to sell unique TP's, but are actually UNNUMBERED AP's; to be legit, these impressions must be stamped "Authenticated" along with stamps from The Andy Warhol Foundation For the Arts, and/or The Estate of Andy Warhol as the legend "outside the regular numbered edition". From a desirablilty standpoint, a signed and numbered Apple Screenprint is dramatically more valueable than an unsigned version not referenced in Feldman and Schellmann.